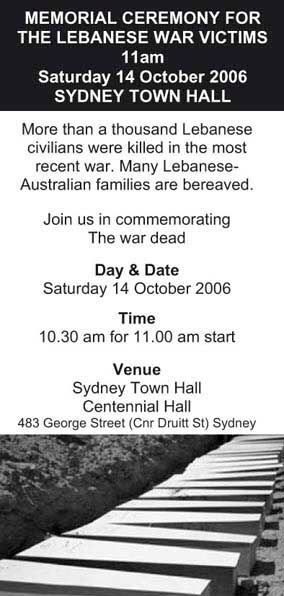 > Dear Friends,
>
> On the *14th of October, 10.30 am, at Sydney Town Hall,* Friends of
> Lebanon-Australia along with other community groups has organised a
> *public memorial for the Lebanese who have died in the recent war*.
>
> In the weeks following the war it became clear that many Lebanese
> Australian families have lost friends and relatives and were privately
> in mourning. We felt it important that this mourning be public as
> well. We were also keen that such a public event does not become a
> 'Lebanese community event' but an Australian event where as many
> non-Lebanese as possible can come to join the Lebanese in their
> mourning. This is why the event is held at Sydney Town Hall.
>
> Muslim Lebanese Australians have been on the receiving end of a lot of
> negative stereotyping, prejudiced ill-feelings and discriminatory
> behaviour from various sections of our society for far too long. It is
> time for those of us who disagree with this this state of affairs to
> not only be critical with those who peddle racism and prejudice, but
> to take the more positive step of embracing the victims and showing
> them that we regard them fully and unconditionally as part of our
> Australian community. Joining them in their mourning is an important
> way of doing so. Integration is not only about migrants adopting our
> values. It is also about us learning to share their sorrow and pain.
>
> We wish this event to be focused on a politics of inclusion within an
> Australian context rather than on the Middle Eastern politics that
> clearly underlies it. This is a unique opportunity, for those of us
> who wish to do so, to assert an inclusive politics of friendhip in the
> face of the incessant politics of hatred and division that is becoming
> part of our everyday lives.
>
> We urge you to join us in solidarity and to do your best to circulate
> this invitation.
>
> Ghassan Hage
> For Friends of Lebanon, Australia.